Welcome!
Thanks for visiting the Published Here page.
Look for mostly non-fiction on this page but a bit of blossoming fiction as well. Each year this list fills a little more. In fact, the pieces spill over and some drop right off the page. Praise God Almighty. I thank Him for this ability to pen words that bring Him praise and help us dive deeper into the Bible and our faith.
If you'd like to learn more about me, check out my story.
May others come to know the living God as a result of my story and these works–as well as the ones yet to come. If there's something you're looking for, and it seems to be missing, contact me. I'll do my best to help.
Thank you and God bless,
---
Nonfiction
This page may include affiliate links.
If you're a writer, check out this page for writer resources.
Bible Studies
For a full listing, click HERE to visit the Bible Studies page.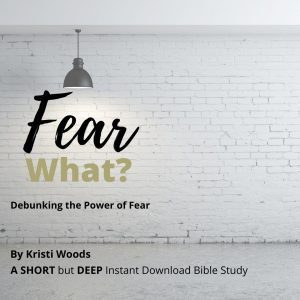 Books
To purchase any of the above books, click the Christianbook.com links available above or email me your request at Kristi@KristiWoods.net.
Magazines, Newspapers, Etc.
Focus on the Family Magazine – Various Issues
Woman's World Circle of Kindness – Various Issues

Online Christian Devotionals & Articles
When Silence Speaks
When I Feel Like A Fraud
7 Lies of Suicide and Hope for the Struggling Christian
7 Truths about Heaven to Cling to When Life is Hard
Uncertain What Book to Read in the Bible? Go Here
Pray These 3 Bold Prayers to Help Protect Your College Student
Gather These 5 Verses from Psalms When Life Gets Heavy
3 Ways to Keep the Spirit of Thanksgiving Alive All Year
Why I Urge My Children Not to Follow Their Heart
15 Ways to Give the Beautiful Gift of Time this Christmas Season
The Top 5 Qualities that Make a Good Friend
How to Help Your Teen Overcome Rejection: 10 Tips
7 Solid Answers to the Question, 'Lord, are you real?'
10 Myths People Believe about Small Group
10 Unpopular Truths Your Son Needs to Hear from You
How to Help Your Child Transition to College
God's Will Isn't That Complicated
The 10 Most Important People in the Christmas Story


BibleStudyTools.com
What Does the Bible Say About Women?
What Does the Bible Say About Relationships?
Why Do Bad Things Happen to Good People?

Wholly Loved Daily Devotionals on Crosswalk.com
When Grace Erases a Record of Wrongs


Podcasts
Christian Writer Affiliations
Faith, Hope, & Love Romance Writers
COMPEL Training (Prior) Volunteer Group Leader
Additional Non-fiction
Life Notes at CherylBarker.net

Ready Writer (Monthly Newsletter of the Tulsa Fellowship of Christian Writers) ~ Feb., 2016