Bible studies help us dig further into God's Word. It's a beautiful way to spend time with God.
Enjoy these Bible studies–some at no cost while others are available for purchase–and other free Christian resources here at KristiWoods.net. If you've joined us already, then you also have access to the overflowing free subscriber's library, too.
If you haven't joined as a KristiWoods.net insider, then why not? Don't miss out any longer. Join here.

Instant Download Bible Studies
They're quick and easily accessible. Grab your copy of one or all of these instant download Bible studies soon!
Shake Off Discouragement: Placing Hope Where It Belongs
Fear What? Debunking the Power of Fear
Find out more here.
Created to Believe: A Bible Word Study
What do you do with a Bible word that makes surface sense, but you know, deep within, God's pointing toward a deeper revelation? What about believe–do you?
In the good times?
During the bad?
To what extent?
Welcome to Created to Believe: A Bible Word Study
This 33-page downloadable study investigates the word "believe"–what it means, how it's used in the Bible, and how it applies to your life. You'll finish this study knowing better when and how you believe God concerning His promises and Word.
6 sections for daily or weekly study
Ideal for those who like word studies, inductive studies, and even young Christians
Perfect for those with limited time availability
Convenient and easily accessible
Great for solo or group study
Created to Believe is good for those who like word studies, inductive studies, and even young Christians. And it's not overwhelming–perfect for those with shorter time availability.
Free Bible Studies
Believe: A Bible Study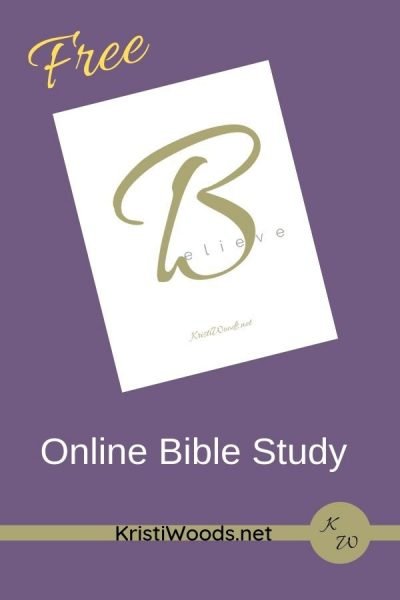 We'll hold our belief to the refining fire of God's Word, challenging what, who, and how we believe.
Refuse stagnancy. Grow in faith instead, friend.
This study, even though the live video study is over, is the perfect transition to keep the Easter spirit flowing all year long. Why not continue walking with Jesus by studying His interaction with people just like you and me?
What did they believe and to what extent?
And how about you–how does that relate?
Here's how to enjoy this free Bible study:
Step 1: Grab a Bible
online, in print, any version
Step 2: Download the Believe Packet
Download a free copy of the Believe: A Bible Study packet–optional, but it's pretty 🙂 and helpful for following along as well as suggesting further steps.
Step 3: Watch the Believe Video
Helpful Posts About Bible Studies
Free Podcasts