5 Ways to Grow Your Faith Today
Looking for ways to grow your faith? If you're whispering, "Yes," then you've landed in the right place. Read on! Here are 5 ways to help you grow in faith.

The Importance of Growing in Your Faith
Little by little, day by day, we learn to hear His voice, to trust God, and to soak in His love. But just as a toddler doesn't enter their bed one night a youngster and rise the next morning an adult, a strong faith doesn't happen overnight. It takes time and intentionality on our part–seed-watering on God's. According to 1 CO 3:6, it is He who causes the seed to grow. And that's a good thing. So God, as we venture through this list together, we look to and trust You to become stronger in our faith.


1. Grow Your Faith Through Salvation


What Does the Bible Say about Good Works and Salvation?

According to Ephesians 2:8-9, good works don't, well, work when it comes to salvation. No matter how many good acts we offer, it's only the unmerited favor, that which we know as grace, of Jesus Christ that saves us.
Here are three Bible passages addressing good works or salvation:
"For we are his workmanship, created in Christ Jesus for good works, which God prepared before that we would walk in them."
(Eph. 2:10 WEB)

"[T]hat if you will confess with your mouth that Jesus is Lord, and believe in your heart that God raised him from the dead, you will be saved. For with the heart, one believes resulting in righteousness; and with the mouth confession is made resulting in salvation."
(Rom. 10:9-10 WEB)

"[F]or all have sinned, and fall short of the glory of God;"
(Rom. 3:23 WEB)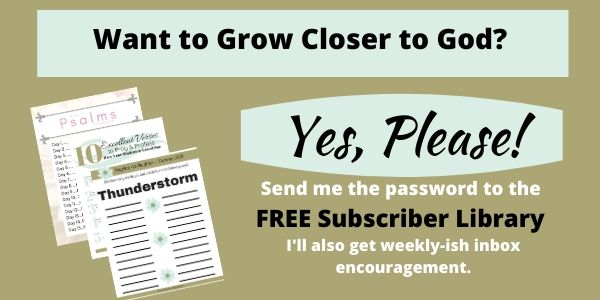 What Was Jesus' Role in Salvation?

Without Jesus, there would be no salvation. He stars in that role–thank goodness! Acts 4:12 makes it clear. Salvation is found in no one else.
God sent His only Son because of love. According to John 3:16, all who believe in Jesus will have everlasting life.
Read more of my salvation story here.


2. Grow Your Faith Through Prayer

What the Bible Says about Prayer
The Bible tells us to pray, or communicate with God, continually in 1 Thessalonians 5:17. God's Word also urges prayer in place of entertaining anxious thoughts in Phil. 4:6 and sounds a call for healing in James 5:16.

How Should a Beginner Pray?
Simply talk with God—that's how a beginner should pray. It's a conversation with our Father, one that can be silent or spoken, short or long, eloquent or not so much.
The beautiful part about prayer is that our Father hears. According to Matthew 6:8, He knows our needs before we mention them to Him.
And if you're still uncertain how to pray, use this passage as a guideline.
"…Our Father which art in heaven, Hallowed be thy name. Thy kingdom come, Thy will be done in earth, as it is in heaven. Give us this day our daily bread. And forgive us our debts, as we forgive our debtors. And lead us not into temptation, but deliver us from evil: For thine is the kingdom, and the power, and the glory, for ever. Amen." (Matt. 6:9-13 WEB)

3. Bible Studies

How Do You Do a Bible Study?
A flurry of Bible study methods await us. We can simply read the Bible daily and study the verses we encounter. There are topical studies, the SOAP Method, inductive or word studies, and so many more approaches to understanding the Bible.

Bible Studies for Adults
Here are several Bible Studies I've enjoyed over the years or ones that come highly recommended. There's also a new one on the list–right there at the bottom. 🙂 Created to Believe: A Bible Word Study, a downloadable study, RELEASES September 24, 2019. (Btw, it's on sale for just $4.99 through Sept. 30. The price goes up to $6.99 come October, so grab your copy soon!)

Becoming His Princess Bible Study by Wholly Loved Ministries


---
Created to Believe: A Bible Word Study by Kristi Woods
Find out more about the Bible studies available at KristiWoods.net, some free and others for purchase.

4. Reading the Bible Daily

Do I have to Read the Bible Every Day?
The beautiful part about God is that He doesn't force us into anything–not even reading the Bible every day. In fact, He doesn't strong-arm us into reading it ever. But why miss the golden opportunity to commune with God and learn from Him through His written Word?
Ephesians 6:17 calls the Bible a sword. It's used offensively and defensively–but we must know what's in the Bible in order to use it effectively. Through Scripture, we'll know about God, how to handle relationships and disagreements, how important offering forgiveness is, and how to love others. We'll also find encouragement for life's rough seas and those times of calm.
As a lamp for our feet and a light for our path (PS 119:105), God's Word helps us navigate life's path. And the more we spend time among those beautiful words of His, the more likely we are to walk in His righteous ways. Why not read the Bible daily?

5. Community with Others

What Does Being Part of a Community Mean?
We weren't created to live life alone. God offers community for our benefit. Genesis 2:18 introduces us to the first community of people: Adam and Eve. Eve was created as a "helper." Likewise, being a part of others' lives helps us just as we help others, too.
In the Old Testament, we find a community with the Israelites. Some of people were judges, priests, artists, kings, and so forth. They lived together and helped one another.
New Testament verses refer to us as part of a body (1 Co. 12:12-27.) Each body part has its specific gifts–for helping take care of others. Also, the five-fold ministry of apostles, prophets, evangelists, pastors, and teachers mentioned in Ephesians 4:11-16 lists various members of the spiritual community who were given skills and gifts to help mature God's people.

What are the Types of Community?
Types of community today within the Christian world include:
Church
Small Groups
Sunday School Classes
Discipleship/Mentoring
Outreach
Missions
Family
It can also include friends, school, neighborhoods, and so much more.

Grow Closer to God
God helps us grow our faith and grow closer to Him. He causes us to grow–and that's good. Very good. It all begins with Jesus and salvation.
So go ahead, grab your Bible and read it daily. Dig into Bible studies, and rely on prayer often. And don't forget to involve yourself in a community of others–or several of them!
Other Helpful Faith Growth Tools:
If you'd like to receive access to an even larger Subscriber Library of free printables, you're invited. Simply subscribe by clicking on the graphic below. You'll receive access to free prayer printables, professions based on Scripture, ministry downloads, and other faith tools that help support these 5 Ways to Grow Your Faith Today.