God, Can You Help Me? + Book Reviews & a Giveaway
God, can you help me?
Have you ever uttered, "God, can you help me?" The words swirl in our thoughts when we find ourselves in a quandary when the battle grows strong.
We grow weary.
Fighting one.more.day feels defeating.
Silence emanates from God's side.
The situation appears impossible.
And then the thought slips into our brain.
Can you help me?
How God Can Help Me
Thank the Lord that we serve Him, a God who continues to deliver His people even today, a love-filled Father who helps His righteous amid their afflictions. He can help us.
Psalm 34:18 casts the picture clear.
Many are the afflictions of the righteous.
BUT…
Yahweh delivers him out of them all.
Our God delivers. He can help.
Still.
Looking to build your faith muscles? After reading today's post and jumping into this month's memory verse, check out this TRUST-related nugget.
As we go about memorizing Psalm 34:18 this week, yet another stellar verse in our #Word18 Memory Verse Program (scroll halfway down the page to see free memory verses), let's set our trust in Him. (If you're new to #WORD18, welcome!
---
A God Can You Help Me Prayer
Sometimes we simply don't have the words–to pray, that is. So here, take this prayer and make it your own.
But There's More…
Crystal Storms published a piece of mine last week called 5 Powerful Action Steps When You Ask, "God, Where Are You?" That piece is a perfect match for our memory verse this week. Don't miss it.
Also, Crystal blessed us with a guest post here last Tuesday. Her piece, When God Doesn't Answer Your Prayers in the Way You Hoped was powerful. Make certain you don't miss it. And it's A-OK to spread its encouraging message by sharing on social media or in an email.
Subscribers
Look for my "3" Newsletter this Friday. Watch for your helpful ministry freebie inside. <3
Not a subscriber?
No problem. Simply sign up here to receive access to the subscriber-only library which houses all our free scripture, prayer, and ministry downloads, faith-building lists, and more. You'll also receive regular, courage-building email updates and monthly newsletters for "family connection."
---
And More…Book Reviews & Giveaway
Two new books from Revell Publishing hit bookstore shelves recently. Both grabbed my attention. Take a look…
Silencing Insecurity: Believing God's Truth About You

In this day and age, words, actions, and ideals splatter all over us from a wide range of sources, all attempting to paint our identity.
Magazine covers.
Television.
Social media and more.
But what about the Bible? What about God and His truth?
Silencing Insecurity pulls from God's Word and plain old wisdom to encourage readers in their search or reassurance of identity.
This book resembles a breath of fresh air, the aroma of Christ spoken from a friendly source. I don't know Donna personally, but I feel as though we're friends–in a Christian, professional way–after reading this book. She doesn't wag a finger or stand on a podium. Her writing comes alongside as a friend and counselor, offering solid, strong suggestions and encouragement from the Bible.
The author identifies thieves many of us face in our search for "who we are." She helps throw off their cover, exposing them in the light of God's Truth. I nodded my head during several of the chapters.
Donna dives into various problems we may face such as mental, emotional, or relational issues. She brings real life to the pages and helps readers understand what they are facing and why.
Then comes the most important part. Donna leads us toward conversation surrounding transformation and freedom with our Father. Her words lead us to the throne of the Almighty and His truth.
Is it a book I'd pull out the highlight for? Indeed.
Is this a book I'd buy for a friend? Absolutely!
Consider grabbing a copy of Silencing Insecurity (click on the book cover above) if the tumultuous world of identity is rocking your boat, if you love refreshers of God's truth, or if you simply enjoy new reads.
Second-Chance DOGS
Pure sweetness, swelling of the happy kind–that's what this read offers. Although it's atypical for the books we read and review here at KristiWoods.net, this one deserved a chance, just like its subjects.
I'm on the dog bandwagon right now. I love rescues and their heart-warming stories. My family and I just adopted (at our best guess) a collie/terrier mix. A few days after Ellie joined our family, another rescue sprinted into the picture–a Belgium Malinois named Kasey.
Considering our house full of rescues, this book is appropriate.
If you're looking for stories that warm the heart, bring out one's inner cheerleader, create a smile, even cause a tear, then grab a copy of this Revell publication. It's appropriate for you, too. I fell in love with dog after dog, story after story. You might do the same.
Second-Chance DOGS is an easy read. Each story covers a handful of pages, give or take. Beautiful bedtime reading. A few of the contributor names rang familiar, like Lauraine Snelling and Cyle Young from the Christian arena. (I cried at Cyle's story, but read it for yourself to see what impact his words make on your heart.)
This book would make a great Christmas gift for a friend or work acquaintance. Consider it also for your own nightstand table. Purchase it by clicking on the book cover above.
The publisher supplied a free copy of Second-Chance DOGS and Silencing Insecurity in exchange for my honest review.
Giveaway
I'm excited to give away 1 copy of Second-Chance DOGS. (US addresses, please, and you must be 18 years or older to enter.)
To enter:
Comment below for 1 entry.
Gather 2 entries by subscribing to KristiWoods.net and letting me know in the comments below that you've done so.
Share this post on social media (and let me know in the comments below) for 2 entries as well. Make certain to leave your email address (confidential) in the appropriate space when leaving a comment. Otherwise, I won't be able to contact you. ;-)Giveaway ends at 10 pm, central on Sunday, October 7, 2018. Winner will be announced on the Tuesday, Oct. 9th blog post, and I will email the recipient–after I've asked one of my kids to pull a number out of the hat. 🙂
Have a beautiful week. And remember, when asking God, can You help me, the answer is an astounding YES. Our Bible memory verse assures us.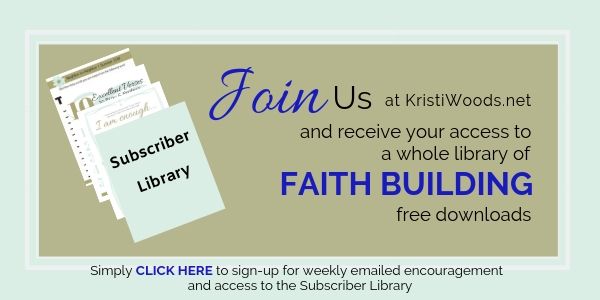 Linking with other Jesus lovers here: #heartencouragementThursday, #faithonfire