How Do You Read Your Bible? A Simple Approach for Consideration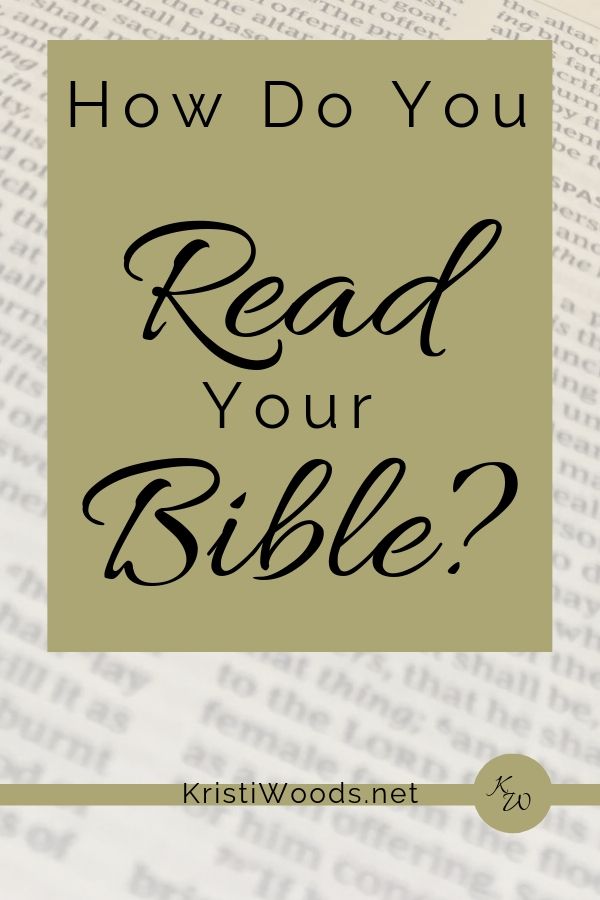 How do you read your Bible?
Mind if I throw something practical onto the blogosphere today? It's nothing profound, but the end result, its by-product, certainly could be. It could be life-changing.
How do you read your Bible?
Do you have a plan?
I've tried several and have completed a few. Maybe you too?
Maybe you're the "open it and go" type. Wherever the pages fall, that's where your reading eyes will traverse.
Perhaps it's a struggle, finding the time. You have great plans and intentions, but busy builds a roadblock and the Bible goes by the wayside.
Or, maybe you're like me. You start, have great intentions, but distractions manifest. I feel a little "here, there, and everywhere" flipping through the Bible, with focus fading.
A New Way of Reading the Bible
There are several good plans out there, but I'm quickly falling in love with a new way of reading. It came out of necessity. My focus is short; the approach fit. It came because I needed "easy-to-follow" while diving the depths of relationship with my Daddy.
I didn't set out to read the Bible in a year. That always seemed so daunting, and has been a struggle in the past. I loose track! I'm truly in awe of those that can stay to a year-long reading plan ALL year long. Woot! Woot! You go, folks! Knowing God's Word is power. And depositing it once each year – fabulous!
This plan is different because, well, I guess I'm different. My piano teacher of years ago can attest. I was her only student who practiced in several 2-5 min. segments daily. You'll laugh, but I practiced during television commercials! The "30 minute-at-a-timers" and I still landed in similar spots, but the approach was different. Maybe yours is, too.
So here goes.
A Simple Approach to Bible Reading
1.
READ 1 CHAPTER

 from each daily: Psalms, Proverbs, and one other book of choice.

Three books are easy peasy for the focus-impaired. (Like me!)
2.
MATCH

the chapter with the numerical day of the month.

For example: read Psalms 1, Proverbs 1, and Joshua 1 on October 1, Psalms 2 on October 2, and so forth.

Again, it's easy to keep track because the numbers match. Sounds silly, but this was a hurdle for me.

I started with Joshua. There's something about the words whirling within that book that chime success.

Don't be discouraged. Be strong and courageous.

Yes! That's what I desire in my relationship with the Lord and with Bible reading.
3. The "Book of Choice":
START WHERE YOU'RE EXCITED.
Consider starting with a book that has approximately 30 chapters and one that interests you. Exciting reads are stacked throughout the Word. In my case, writing a drive-time devotional about Joshua for my kids brought a need to know.
Twenty-four ripe and ready chapters awaited. But then I got to the 25th day of the month. Now what? Joshua ended at 24.
What's a girl to do?
4. When you've completed your book of choice,
CELEBRATE!
You just finished one of God's love letters to you. Shall we make a sticker chart? For real. There's something about the visual, about tracking and celebrating progress on a nifty calendar such as these from Donna Young.
5. After hoots and hollers have subsided,
CHOOSE A SHORT BOOK

to read for the remainder of the month.

Galatians, Ephesians, Joel, and Micah are examples. I counted how many days were left in the month then went "in search of" a book that contained the same number of chapters. Galatians goes well with Joshua, for example.
6.
START

again.

This approach will always start at Proverbs 1 each month. Wisdom in, wisdom out. Can you imagine how solid our decision-making will become as we are formed by Proverbs?

Psalms is a different story. On the 2nd month, we'll start with Psalms 31, then 61 on the 3rd month, and so forth. And if there are 31 days in the month? We're afforded the opportunity to read Psalm 31 two days in a row. 😉

It's not rocket science. (That's a good thing because science never was my "thing".) It's about drawing closer to God via three chapters daily.

Amen.

Regardless of how you delve into the Word, whet your appetite daily, my friend. Allow His daily bread to satisfy your spiritual belly. Walk deeper with God.
---
Mark Your Calendars…
It's (almost) a sin to miss Joanna's touching testimony about fostering and adoption. It's that good! #YourStory is next Tuesday, October 6. In the meantime, check out past #YourStory testimonies on the Free Christian Resources page. See you next Tuesday!