Do You Self-Punish? Grab This Gigantic Piece of Truth
Do You Self-Punish? Grab this Gigantic Piece of Truth
The accuser attempts to sabotage our faith–our future with the King of kings–through smeared accusations. And sometimes we self-punish in support of this effort.
I'll be honest, it's easy to "beat myself up" mentally when I fall short in a situation. It causes an internal ruckus. No one else sees it, but God does.
God sees you.
God sees you.
Click To Tweet
We run with accusations, continuing to wear them as though they were our own. Self-punishing because we "deserve" it. Because we can never be good enough for what we did.
True story.
Through the sacrifice of Christ Jesus, however, a different story arises.
Liberty Awaits
Liberty awaits with Christ. He longs to envelop us in hope, grace, and mercy. Like a breath of fresh air, an exhale of the biggest type, He envelops us with the truth.
Those thoughts that self-punish play into the field of darkness, not the light of hope, mercy, and grace. As believers in Christ, shall we set them at His feet? Shall we pick up the hope of truth instead…even when our feelings dictate otherwise?
Be encouraged, friend.
This week's memory verse reminds us there is NO CONDEMNATION in Christ Jesus.
When we feel accused, truth states acquittal.
When we stand assured nothing proves adequate to bring us back or make us good enough, Jesus affirms differently.
We're accepted. Not rejected. We're forgiven. Not condemned or punished.
Hope carves a way. Thank You, Jesus.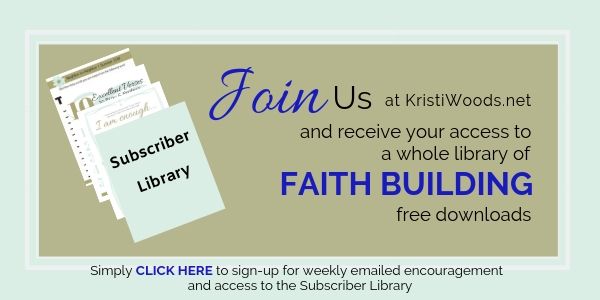 Truth is, there is no condemnation in Christ Jesus for those who walk according to the Spirit.
Our part? Walk according to the Spirit.
His? No condemnation. Nada. Nope. None.
Ready to soak in it? Lap up every bit of this month's memory verse. And if you dare, gather the entire verse to memory. The first portion sits on our graphic, but a second bit awaits too–the part about walking according to the Spirit.
Grab it and go, friend. I'm cheering for you and me both–that we'll stand firm with the truth of Jesus Christ.
Memory Verse Program
This year on KristiWoods.net, we are diving into truth concerning our identity. Each memory verse (typically 2/month) hones in on our true identity, not feelings that often lead us astray. So join us. Stand solidly in life and faith the truth according to God's Word.
For more on this Bible verse memorization program, #WHOamI, click here. Or, scroll down halfway on this Free Christian Resources page to find previous programs.
Did you catch Believe: a Bible study? Although the Zoom video conference study calls are over (It was so nice seeing and hearing everyone…and diving further into the passage!), you can still enjoy the study.
Grab a Bible.
Set aside 10 minutes.
Watch the videos.
Enjoy!
This study dives into four New Testament passages, a journey with Jesus to deepen our faith–to challenge what we believe, when, and to what extent.
I hope you walk away more deeply in love with Jesus. For more, go here.