Then he wrote the dream and told the sum of the matters.
Daniel 7:1b WEB*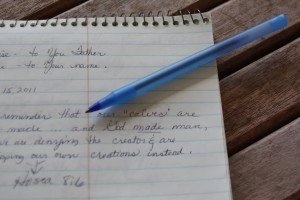 Writing: some of us like to tickle the ivories of the written word while others leave it to be. Daniel was one of "those" who chose to leave a trace of God's touch in his life through the written word. He tickled those ivories, and boy, am I glad!
I'm so thankful that Daniel chose to write the dreams down. He was touched by God, put the dream on "paper", and now we, MANY years later, have the opportunity to catch a glimpse of the vision. Think of what would have been lost had this intricate dream not been put in writing!
When it comes to walking with the Lord, I'm really of the camp that journaling is an all-time important event. Daniel is yet another reason to support that theory. In our house you'll find journal after journal of time spent with the Lord. These journals are filled with adoration, praise, thanksgiving, dreams, interpretations, insight, sermons notes from church, questions for God, prayers, Scripture, quips of sadness expressed, as well as some ranting and raving in times of distress ad frustration. It's all there, written down.
I want to encourage you today to consider journaling, or writing down those thoughts and insights God gives you. They're important…just like you! Whether you put it on the "old fashioned" pen and paper or utilize modern technology (computers, phones, voice recorded, etc.), there's likely something that will fit your bent.
The insight God gives is important as is writing it down, just give the nod to Daniel for proof on that one. Some day, those very words could bring you encouragement, direction or insight, or they could do the very same for generations to come. It sounds odd, but there are many times when I'll go back and read the very posts I've written and will find the Lord giving me yet more insight or encouragement through them. It's always amazing to me how the Lord can work.
Be encouraged this week as you "write down" those dreams and visions.
Much Love,
Kristi