Dear Trials and Troubles – Let God in the Driver's Seat Now

Dear Troubles & Trials,
I wish I could say we're through. But life promises time with you. Your vehicle has carried me far too often.
But now?
A driver switch is due.
Troubles and trials, you arise, but do you remember years ago when I sat in your vehicle's seat? You clicked the buckle tight, slammed the door shut with might.
I had no choice but to go for a ride.
Little did I know Discouragement would slip behind the wheel. I didn't even see him get in. He turned the key, the engine roared to life, and we were off!
Discouragement took me for a ride.
Scenes danced as I peered through the side window. Troubles, like trees, were everywhere. They garnered my view, gathered my focus, cluttered the countryside, and blocked the Light, too.
Computer gliches.
Temper flaring.
Rebellious children.
Death rearing.
Fear thundering.
Lies uttered.
Not good enough and Who are you? crowded the view.
Wheels turned, stability churned.
I became consumed with the car's interior stench. It filled my lungs as I inhaled problems and exhaled Discouragement's smoke. It smelled and reeked of harm.
Discouragement drove me in circles.
And I'm done. I'll learn from the drive, but it's time to move on to something new.
Trouble and anguish have taken hold of me.




Your commandments are my delight.

PS 119:143 WEB
Stop the car. Allow God to take the wheel.
Is God is at the wheel?
Click To Tweet
I'll go no further until He sits there.
So Trials and Troubles, I won't focus on how hard you are. Peering out the window of what ifs and why couldn't it be this way, instead? will no longer gather my view. No, not any more.
I will look Above, to God.
My focus will be on Him. That's where my help comes from. I will pray, "Trustworthy Daddy, show me the way."
And faith will overflow full.
My help comes from Yahweh,


who made heaven and earth. PS 121:2 WEB
My Daddy will drive.
His help will show the way. And I'll tell of His mercies.
Oh, it won't be easy, I'll not be immune. Trials and Troubles, you'll still be near, but this time I'll be buckled in your seat with God at the wheel.
Discouragement's license to drive me has expired. Permission is no longer granted; it's revoked this very day.
God will now sit in the driver's seat. Trust will chauffeur me day-by-day.
Jesus answered them, "Have faith in God." Mark 11:22 WEB
Bumps in the road are certain, life's pot holes, too, but faith will shock absorb trials. It'll smooth troubles, too.
Click To Tweet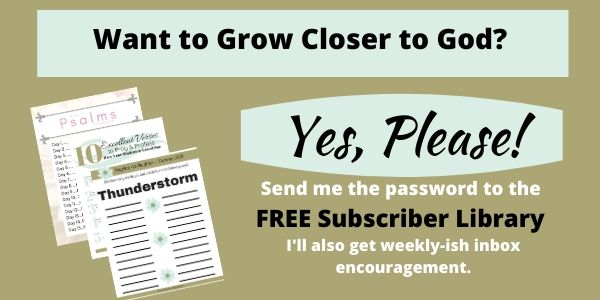 I'm set apart for the Lord. My friend here reading this? They are as well.
So we won't buy the lie that we must sit idly by as Discouragement drives. We know his heaviness too well.
We're through. We'll take our past, our lives right now, and offer them to the Lord.
Our Savior's yoke is easy. His burden? It's light.
"For my yoke is easy, and my burden is light." Matthew 11:30 WEB
So when when my friend and I feel heavy, well – feelings aren't always right. Trials and troubles will come, but we'll surely put up a fight. We'll take a breath, utter a prayer, and find thankfulness in God's Light.
Faith will be our buckler, Truth will be our belt.
We'll learn from the past, and look to God for help.
Faith will be my buckler. Truth will be my belt. I'll learn from the past and look to God for help.
Click To Tweet
Ever His,
me
---
Feel free to share this with a friend who fights discouragement.
The battle is real. God is, too.
Grab the verses above and wield them well. Here's a prayer, too:
Father,
You are holy. You are mighty. You are my refuge and ever-present help. Discouragement covers and muffles courage. It makes life heavy. But your burden is light. Forgive me for believing lies. I won't believe them anymore. I'll run to Your truth instead, Lord. I'll have faith in You. I'll delight in Your commands, and I'll choose Joshua 1:9. And Lord? I'll praise You with the breath on my lips this very moment ~ and rest as You drive.
amen