Wronged and Wounded? What Would Jesus Do?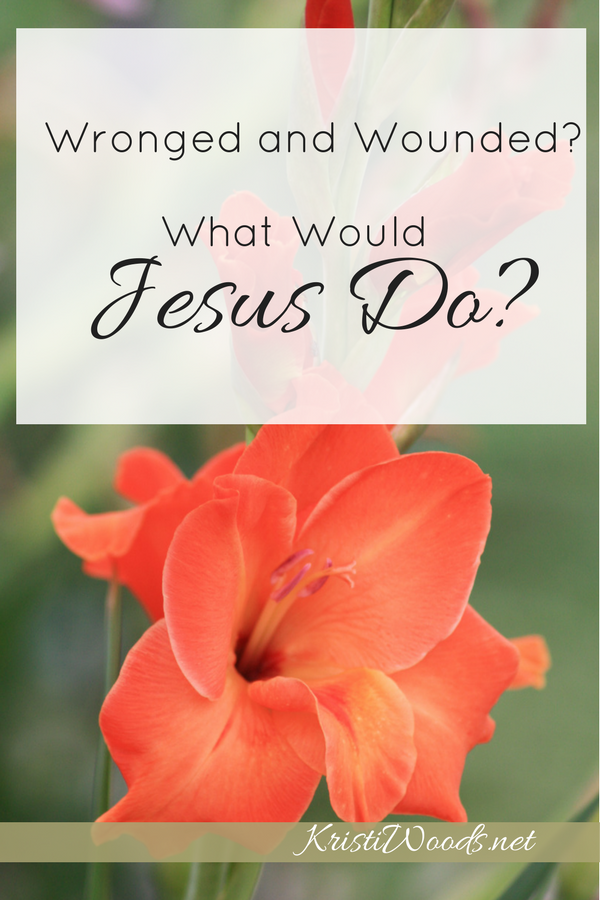 What would Jesus do?
Wounded when wronged – it happens, doesn't it?
And goodness, forget forgiveness in those tough situations.
After all, we've been wronged: wounded by their words, hurt by their intentions, maimed by their force.
They simply don't deserve our forgiveness. Right?
But what would Jesus do?
(Remember that saying from years past – WWJD? Yeah, we're heading back there.)
What would Jesus Do?
He faced a walk ripe for withholding forgiveness. Just look at these injustices. Jesus was:
betrayed
denied
mocked
beaten
stolen from
spit upon
crucified
His reaction?
Jesus forgave.
He set misleading feelings aside (because honestly, isn't that what we're battling?) and followed His Father instead.
Jesus said,

"Father, forgive them, for they don't know what they are doing."
Dividing his garments among them, they cast lots. Luke 23:34 WEB
We're barely post-Easter. Why drop the Easter story and move on? Why not live a life of Easter 365 days this year? Why not live like Jesus.
Love authored life.
Forgiveness raised it from the dead.
Why not live the power-filled life Jesus died for?
Forgiveness seems a good place to start.
Ready?
A Prayer to Pray ~
Father,
You are the author of love. You've lavished in upon me in beautiful ways. Praise You. Show me my heart. Is there an area ripe for forgiveness? Make clear my intentions. Show me the way everlasting. Strengthen me. Father, I choose to forgive.
In Jesus' name, amen.
Also~
Have you always wanted to memorize scripture, hide God's Word in your heart so you're ready when the battle heats? Join us! WORD18 is a scripture memory program. This year we're memorizing Psalm 34 – the whole, crazy-good thing. You're invited. Start here.
Are We Connected?
Journey with me and others here on Facebook.
Linking with other Jesus writers and lovers at #FaithonFire #Linkup.