A New Year, A New You + Free Gift
It's a new year. Many of us have vision of a "new you" as well.
With God, call it possible. After all, Jesus came to earth, bringing heavenly possibilities with Him.
"For with God nothing shall be impossible."

(Luke 1:37 KJV)
Recently, I read about Joshua. Like a bold reg flag waving and whipping in the wind, the Israelites' march around Jericho gathered my attention. Here's why:
The Lord spoke His promise.
Joshua ran with that promise, leading the Israelites accordingly.
After gathering the promise and instruction, they implimented the process. Because marching for 7 days, once around the city 1 time each for 6 days and 7 times the final day, IS a process. It's not an instantaneous, click-your-fingers God move.
Amid the process, however, the promise remained.
It simmered all along. And even though that promise came to fruition after a period of time and through a process (work by those trusting God), it came because God was faithful to fulfill His promise.
The part I love most is summed up simply in Joshua 6:27.
"So the

LORD

was with Joshua,

and his reputation spread throughout the land."

(Josh. 6:27 NLT)
Joshua's reputation spread throughout the land. Maybe it sounded like this:
"Did you hear what Joshua did?"
"Look how Joshua serves the Lord."
"Did you hear how those walls crumbled straight down?!"
"He's quite the leader, that Joshua."
But behind the chatter?
The LORD enabled Joshua to commence and complete the tasks. He offered the promise; He brought victory.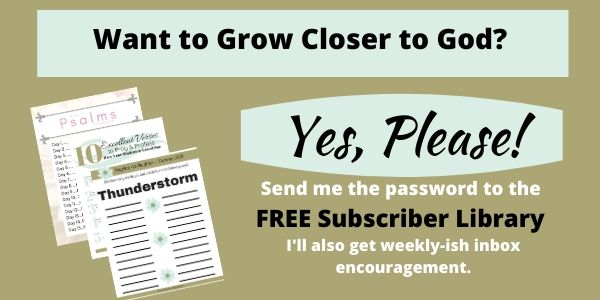 The stellar leadership? It happened because of the LORD.
The promise rose because of the LORD.
The walls crumbled because of the LORD.
The "new" Joshua and Israel experienced? It came straight from Above.
Truly, it's all about the Lord.
And your life is about Him, too.
It's a new year.
You might be looking for a "new you", a resolution of the common type. Or, maybe last year proved horrendous and you want something more.
Why not look for transformation from the One whose muscle makes possiblity happen? Make 2019 all about God. Grab His promises and stand solid, friend.
I'm convinced there's one place to start a new year's transformation that will transition into a whole life version: in His presence.
Start with this FREE Download
Come into His presence with His word. Sail into the new year with your copy of I AM Enough…, truth and declarations to squelch the voice of "not enough."
Feelings of inadequacy is the #1 battle my readers face. I've face the ugly wrestle, too. But with God we overcome and find a solid stance in freedom. I am a walking testimony of this and desire you to be one, too.
This free, new resource, is located in the Subscriber Library. It's a sheet of truth, affirmations, and prayers based on the Word of God. Each one listed will help you identify yourself with the solid stance of Jesus Christ–not fleeting feelings, wobbly circumstances, or the inaccurate labels others paste on us.
So go ahead, grab your free copy. If you're already a beautiful subscriber, click here.
Not a subscriber? No problem. Simply sign up here. You'll receive access to this library download as well as many other faith-building printables. (Watch the spam folder, however, as emails land there from time to time.) You'll also receive weekly updates and "3", the family connection newsletter. It's a place where we get a little more personal and share tips like this recent iphone shortcut.
3 New Year, New You Suggestions to Sit in His Presence
Prayer
Why not simply sit in the quiet with Him? Converse. Listen.
Here's a prayer I offer regularly, words that somehow usher a heart straight into His presence. God answers every.single.time. Why not begin here for true transformation in 2019?
Lord,

Show me my heart.
God alone knows the struggles and lies hiding in our heart. Why not go to the One who offers true transformation?
"Let the words of my mouth and the meditation of my heart

be acceptable in your sight,

Yahweh, my rock, and my redeemer."

(PS 19:14 WEB)
Once I pray that prayer and wait His answer (which comes in a matter of days sometimes, months other times), then the process begins. God unveils that which defies. It's like finding Jericho on a map. Then, He gives direction on how to march and watch the walls fall.
In that place, victory waves its flag.
"Give your people what their actions deserve, for you alone know each human heart." (2 Chron. 6:30b WEB)
Bible Reading Plan
There's a second place that settles us among the utterances of God Almighty, opportunity He offers in the pages of His Word. One way to dig into these love letters from the Almighty is a Bible Reading Plan like the free ones offered here.
Various versions of the Bible await. I enjoy the NLT, WEB, NIV, MSG, and AMP regularly, and sqeak a few others in from time to time. If you're looking for a Bible that allows you to read God's powerful word in one year, try this version:
(affiliate link)
Memory Verses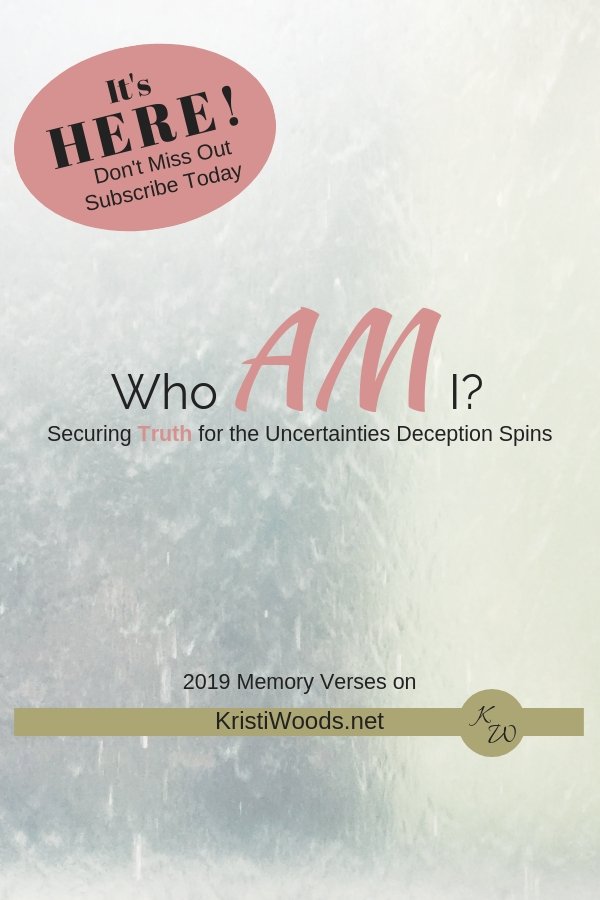 A third way? Memorizing scripture. It sets truth solidly within, allowing us to recall truth when evil dangles questions.
Don't miss this opportunity to join us as we secure truth for the uncertainties deception spins. We're answering the age-old question:
Who AM I?
Join us here at KristiWoods.net as we memorize scriptures in 2019 securing and reminding us of our identity in Christ. It's simple. Jump in here and the posts will arrive automatically in your inbox each 1st and 3rd Tuesday, except January's verses which will post on the 2nd and 4th Tuesday. (Along with emails containing the memory verses, KristiWoods.net subscribers also receive weekly encouragement, access to the Subscriber-Only Library, and "3", our monthly "Family" newsletter. Yay!)
So there you have it, friend. Grab a hold of Joshua while heading into this year. Let's stay in the presence of the Almighty–you encouraging me and me you–as we work through those promises and processes. Let's open our Bible, too, allowing His truth to imprint our heart.
Happy New Year.
Happy New You.
Most importantly, praise the Lord.