Are You Anxious for Nothing?
Are you anxious for nothing–or maybe a little something? Or, a big something? Here's my story–one of a few–about a battle with anxious thoughts.
Be Anxious for Nothing
The index card's backside was barely visible. The back reflected enough of the white, however, to create a three dimensional effect on the mammoth-sized mirror. The card appeared to be popping off the glass in springboard fashion, almost as if it was floating in air.
That crazy tape. It always does that.
I was too cheap, maybe thrifty, to buy double-sided tape. Single-sided tape, hand-rolled in backwards fashion, had to do. My hand smoothed across the card, pushing extra at each of the four the edges. Just to be sure.
There. That's good enough.
My eyes caught the hand-written words quietly sitting on the light, blue lines. They awaited a reader. They awaited me.
Be anxious for nothing…
What the Bible Says about Anxiety
I let out a sigh. My eyes scanned the next line, index finger following each word.
…but in everything by prayer and supplication, with thanksgiving, let your requests be made known to God;
I whispered the words to myself.
I'm not going to handle this one like the others.
There were only a few sunrises left. Moves were never easy. Ours was within reach. But I was determined not to handle this one as the string of moves before.
A ball of nerves and anxiety for the unknown both took part in day-to-day life during our conglomerate of military moves. Inevitably I'd lose my temper right along with the control the moves so hastily devoured. If ever I would dip into a down period, almost a depression, it was bound to happen during a move. I hated it.
Losing control was never easy.
After all, it was really about control.
The 3×5 card was my grip on sanity, a release for an anxious heart. It was a lifeline to God. My eyes devoured every curve and straight line on that card until I knew it well. The Scripture was written on my heart.
I needed His truth to see me through. Many of us do.
In nothing be anxious, but in everything, by prayer and petition with thanksgiving, let your requests be made known to God.

And the peace of God, which surpasses all understanding, will guard your hearts and your thoughts in Christ Jesus.

Phil. 4:6-7 WEB
We may have moves or other changes in life that come and go. Those changes have potential to uproot control, to stir our anxious heart.
But as we choose peace over anxiety, as we take our change, our troubles, our life to God in prayer, something changes. The heaviness lifts. Peace settles in like a welcomed overnight guest. We place our trust in God, not anxiety. It's somewhat like reaching up and grabbing our Daddy's hand, allowing Him to lead us down the path.
It might take diligence, consistency too. It might feel uncomfortable at first, but that's okay. I had much anxiety to offer Him. Many were even repeats. He heard my pleas many times a day. He'll hear yours too. He loves you.
Whenever thoughts go wild, when anxiety starts to stampede, try saying out loud, "Nope. I'm not going there." Head to your "mirror", with that Scripture card intact, and repeat Philippians 4:6-7. Offer those thoughts in prayer, in supplication, in thanksgiving.
And watch the peace of God guard you well. He's faithful.
Be determined to be anxious for nothing, my friend. Our Daddy has you.
---
Come On Over…
…to #Lordtodayprayers on Facebook. We're praying together most weekdays. You're invited.
Need a speaker? I love to encourage folks in their walk with Jesus. You can find more about my speaking and get a little sneak peek here.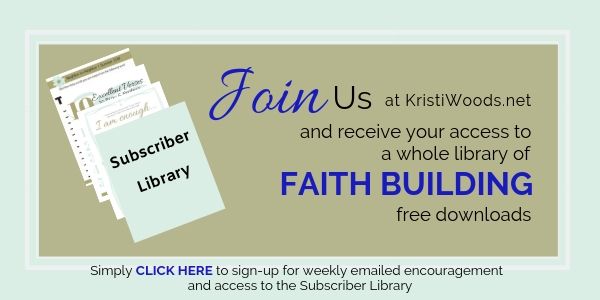 You're invited! Linking hands in the blogosphere to lift up the name of Jesus with these beautiful gals: Intentionally Pursuing, Purposeful Faith, Testimony Tuesday, Jennifer Dukes Lee, Holley Gerth, Suzie Eller, Tracie Miles ( #stressless), Dance with Jesus, and Counting My Blessings.