5 Christians of Color Who Will Encourage Your Faith Walk
I stood in the grocery checkout line Friday. That's where I noticed it. On the magazine covers, every face peering back at me was white. (Well, except for Megan Markell, but her royal status kicks things up a notch.) I noticed a similar message nearly twenty years ago.
Where were the faces of color? These were secular magazines, but we can ask the same in our Christian community. Where are the Christians of Color?
Here.
They are right here. In front of us. And I can't wait to introduce you to five of these stellar folks! You'll want to learn from, walk alongside, and support these folks who are endeavoring for the Kingdom of God. So keep reading, okay?)
Race and Religion in America
My children, husband, and I have held numerous conversations about the racial situation in the United States. You've likely had them, too. God, in His Word, assures us we're equal–that we should simply love. It makes sense that our religion should reflect love–regardless of race. In America and in other places as well. After all, we're believers.
For God so loved…
But knowing what to say or how to approach the red marks of racial tension filling social media feeds can be hard–especially if you're a thinker, like me. It takes us a while to process things. We tend to watch, think, then act.
Those cries, however, were heard.
What is the Color of Christianity?
Rewind to the grocery store. Something happened on the drive home. That's when the Holy Spirit churned an idea, a small drop in the bucket but a righteous drop nonetheless, to combat the evil of racism.
Set the spotlight on men and women of color who make a difference. Love in the way you know how to love. God, it seems, has gifted me to bring folks together, to encourage and connect them in small groups. It happens over and over, wherever I go. So why not here? Why not now?
We're all one in God. Thank goodness.
Let's reach into the very fabric of our society and shine the light on those who are weaving with faith the very threads of life through Jesus Christ.
Because it's through Him that we truly combat evil and squelch Satan's tactics.
These beautiful women and men are sisters and brothers in Christ. They champion the love of Jesus. They also happen to be men and women of color. And you and I have the privilege of running the race of faith alongside them.
Here are 5 Christians of Color who will encourage your faith walk.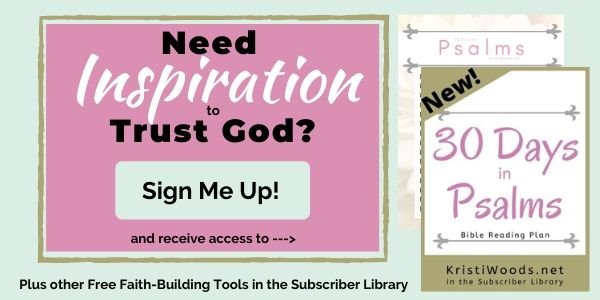 1. Iris Bryant
This woman lives in the deep waters of the Lord. The aroma of Christ wafts beautifully from Iris and lands with gentleness yet power on those who read or listen to her creative efforts. That's why you should follow her–because you'll not want to miss those moments with the Holy Spirit. She'll encourage your faith.
Iris Bryant and I were drawn into an amazing friendship several years ago through a COMPEL Training connection. When I had the opportunity to meet her in person during a family vacation back east a couple of years ago, I struck gold. We sat for a couple of hours at that North Carolina coffee shop, but we could have sat and chatted all.day.long. She's that much of an encourager, you guys.
Visit her blog. Peruse her books. Sign up for her emails. You'll be glad you did. Plus, she offers a free ebook called, Iris's Insights: Seven Days of Perfect Peace. Download your copy. Oh, and be prepared to be blown away with a snippet of her testimony, shared here on KristiWoods.net in 2017.
But don't stop there. Iris recently stepped into the world of podcasting. Hidden Jewels–don't you love the name?–centers on "the woman who desires to unlock her hidden potential and walk in her God-given purpose." Take a listen.
Find Iris Bryant Here:
2. Pleasing the Potter
Horace Williams Jr. of Pleasing the Potter shines the light of Christ in the brightest way. He has a story to tell. It's a hard one, but the glory of God outshines every sharp-edged morsel.
Horace loves sports, so when Joel, our oldest, headed off to college to play football, Horace showed interest. And there was a connection. I'm thankful because I believe God is using Horace to plant seeds of faith in my boy. What parent doesn't love and appreciate other believers coming alongside them to raise the next generation? Praise God.
Journey over to his website, Pleasing the Potter. Check out his story on the "about me" page. It's good. And unexpected. You'll be amazed and wowed by God's testimony and strength in this man. If not, allow me to check your pulse. 🙂
Horace wrote a book recently and is in the final stages of another one. Plus, he offers a podcast that's uplifting and easy to listen to. You'll find those listed and available for sale on his website.
Follow Horace Williams Jr of Pleasing the Potter Here:
Other Christian Posts & Pages to Enjoy
3. Replenish International (Brandon and Elisa Hyman)
What a neat couple with a unique Christian mission. He's our "Christian of color", but together Brandon and Elisa Hyman founded Replenish International.
Brandon and my husband were stationed together in the Navy over twenty-one years ago. Both have now retired, but back then Brandon's quiet, kind spirit won us over. So much so, that we decided to name our son Joel Brandon.
Brandon and his wife, Elisa, and their two children now live in Africa. They're busy at work–God's work–as missionaries to the missionaries. Yes, you read that right. Missionaries to the missionaries. Unique, eh?
In this ministry, they help replenish those who pour out every day for the cause of Christ.
They're a hoot to follow on Instagram. Elisa's creativity amazes me, honestly. Brandon found a gem in her. And she in him. They've paired well for God's glory.
Why should we follow Brandon and Elisa?
They live in the trenches supporting missionaries who also live in the trenches–all for the cause of Christ. They need prayer coverage and financial support to accomplish this. So follow along, see if God's tugging on your heart to help them. Say a prayer right now for them or add them to your daily prayer list. In the meantime, enjoy their fun Instagram feed that births smiles and laughter often.
Find out more about their missions program and how to support them at Replenish International's website.
4. Living Our Priorities
They're a husband and wife pastor team out of Las Vegas. They understand loss, living day-to-day with chronic illness, and how faith and finances flow best. And they know how to make God's priorities their own. They "inspire others to live within the priorities of God." Meet Andre and Timberley Gray of Living Our Priorities.
Timberley and I met in a Christian blogging Facebook group and eventually chatted on the phone. Somewhere in that conversation, we discussed their approach to Halloween. We don't celebrate Halloween at our house, but I was very impressed with the Gray family approach. They brought the light. (You can read more about it here.) And it was beautiful. But that's just one way they minister to their community. They do so much more. So make certain to sign up for their email list, okay?
Living Our Priorities offers several family-oriented faith products as well. They're practical. They're helpful. And you might find them useful. There's a free love challenge e-course, a Light Party kit (Halloween), Naked and Not Afraid: An Intimacy Guide to Finding Freedom in Becoming One Flesh, and other products. Find all their products here.
Follow Living Our Priorities Here:
5. Walinda Phiri
We met in a critique group of COMPEL Training, a writer's training branch of Proverbs 31 Ministries. Walinda shared her heart-tugging story, one that all too many females understand, in 2016 on KristiWoods.net.
She impressed me–the tenacity and simple worship of this woman. There are no bells and whistles. It's simply a woman worshiping the true and living God. And it's beautiful. I find encouragement from Walinda's Instagram feed, but you can find her on Facebook as well. Find Walinda here:
A Bonus Christian of Color for Our List
Who doesn't like a bonus? 🙂 Here's one for our list.
Are you following Priscilla Shirer? If not, may I encourage you to check out her Instagram feed? It's uplifting and real. And this post of her father, Tony Evans, was very good. I tagged my kids to watch it. Maybe you'll find benefit in it, too.
I hope you find encouragement from these beautiful women and men–Christians of color, believers who will encourage your faith walk. Because Jesus remains on the throne. But while here on earth, our job is to simply love–God and others. And sometimes, that takes a practical approach–like posting on the internet, buying a product, supporting through finances or prayer, signing up on an email list, or following and supporting the journey on social media.
Have a beautiful day, friend.