#YourStory: Susan B. Mead

Dance With Jesus – a Metaphor for Joy
By Susan B. Mead
Have you ever felt like the journey of healing from losing someone dear to you was NOT what you hoped for?
Do you often find yourself feeling lost, alone, overwhelmed and unsure how to help yourself, much less someone else in your family?
Would you like to see that someone else has walked this path, so you can? Me too. There is HOPE…
Have you ever written an answer to a Bible Study question that took longer than the two lines provided? I did – and it became the book Dance With Jesus: From Grief to Grace. The question Henry Blackaby posed in Experiencing God was what does God want you to do, right now?
I heard deep in my spirit, "Sing My love song." And laughed out loud at God.
Seriously God, You will have to send me a bucket, because You KNOW I can't carry a tune. Then the next deep spiritual nudge was, "What's in your hand? Use it." I was writing in the workbook, so a pen was in my hand…
I swept away the workbook, got out a clean journal and out the story poured. At 5:30 am, I looked up as I wrote the last words. The very first email I read later that day was from Proverbs 31 Ministries about their upcoming SheSpeaks 2013, a speakers and WRITERS conference.
Seriously God? You WANT me to DO something with this? OK.
So the story begins…
My name is Susan Burfoot Mead and I've been blessed to be married to my soul mate, Holt Mead, since 1979. I think the first 30 years we spent working on learning what soul mates are…Or should I ask him if we are still working on that?
I'm the mother of two sons, Matthew, who lives in South Louisiana and is engaged to a precious woman and Kyle, Forever 20 and in Heaven, where he is doing a Dance with Jesus. Kyle's been there since March 29, 2008. March 20 is Matt's birthday. I love you dearly, Matt. Always have. Always will.
Matt called on a beautiful sunny Saturday morning in 2008. My world split open and I tumbled into a black abyss as Matt wailed, Kyle died last night. Oh. O H. OHHHHHHHH. NO!
Please, don't even try to imagine how any parent feels upon hearing those words.
But God…gave me a gift – a beautiful gift.
The morning of Kyle's service, I had a dream. Kyle was wearing blue jeans, his Scooby Doo t-shirt, a blazer and was dancing–getting way down low. Two hockey sticks were crossed behind him…and JESUS was way down low, dancing in a mirror image JUST LIKE Kyle! Jesus turned with His arm outstretched, pointed to me and said, "This is to bring you joy. I taught him how. I taught him how to dance."
So where was Kyle? Dancing with Jesus! Awesome, thank you, Father. What an exquisite gift from You.
A day or two later, we were in South Louisiana for a memorial service for Kyle for his college friends who were unable to attend his funeral service. One friend made a banner of a lot of their friend's pictures of Kyle to present to us.
Can you imaging my surprise…and delight…when just to the right of center I saw a photo…
There was Kyle in a picture wearing blue jeans, his Scooby Doo t-shirt, a blazer and was dancing–getting way down low. One hockey stick was behind him…No mirror image. Just him. Dressed just like the dream. A day or two LATER.
HELLO GOD!
And the story continues as God reveals Himself over and over and over again. I remain in AWE of our great God! Now dance with Jesus is a metaphor for joy. The joy of the Lord!
About Susan ~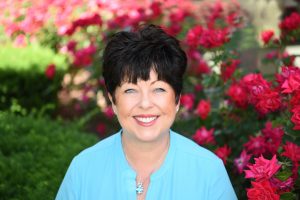 With over 2 million airline miles under her belt, an MBA hanging on the wall and 2 Christian Literary Awards on the shelf, Susan B Mead shares her expert teachings on business, grief and relationships. A master storyteller and award winning author, Susan leaves audiences motivated to live a life free of regrets even though she has done the hardest thing any parent can do – bury her youngest son, Kyle. Susan has been described as a solid, comforting voice in a messy world. Whether speaking to business professionals, women's conferences, industry leaders or writer's workshops, Susan's insightful wisdom inspires audiences, empowering them to make healthy mental u-turns.
Connect with Susan on her website where she writes each Friday, on Facebook and Twitter where she posts scripture graphics and daily inspiration or on Amazon where her book, Dance With Jesus: From Grief to Grace, is available.
---
Discouraged?
Joshua is here to help. Check out this article for help in overcoming discouragement.
To read other #YourStory testimonies, click here.