A Christian Top 10 of the Year
We're nearing the end of the year; do you make a list of your top 10 for the year? Here's one–with podcasts, musicians, Bibles, books, posts, and more–compiled for Christians like you and me.
Sorry, but there's nothing scientific about this post–mostly. A few of the top items made the list because you have read the posts, clicked the pins, or something similar. They're your favorites. Those are scientific–or at least based on numbers. Others made the list simply because they're loved. 🙂 Either way, I hope you find something new, encouraging, and faith-building. Comment with some of your favorites as well. After all, sharing is caring. 🙂
1. 2019's Most Popular Post
Folks love this one. I have to admit, I do too because there's such a wealth of maturity, focus, and desire combined in the podcasts in this blog post: Top Christian Podcasts to Encourage You.
2. Favorite Outreach this Year
In the past, children in India have received books about Jesus from us. We've sent hurricane goods to Puerto Rico. I'm sure you've served in many other ways, too, and have a favorite service organization or outreach this year.
Many organizations and people await, but this year's favorite award goes to Finally Family Homes. This group helps fund housing for foster children who are aging out of the system. It offers a safe place for them to launch into adulthood–not into homelessness or the sex trade which are both far too common. Its ministry is laser-focused on the orphans God so dearly loves. And we can be part of that.
3. Top 10 of the Year: Podcast
How about a tie?
This specific podcast episode encourages Christian writers and possibly others as well. Recorded earlier but found in 2019, it features John Bevere on The Thrive Time Show.
A testimony-based podcast that I've grown to love is the By His Grace podcast with host Misty Phillips. When I drive nearly 2 hours to Oklahoma City for Christian fiction writer meetings, I listen to this podcast. So many stories. Such beautiful encouragement.
***Stay tuned for my podcast on iBelieve.com. Coming in 2020.***
4. Top Christian Non-Fiction Book
Seated with Christ blew me away. It's one of those books that will sit on my shelf for years to come. I've already purchased and given away several copies. Have you grabbed your copy yet? (Yes, it's that good!)
Seated with Christ: Living Freely in a Culture of Comparision
By Heather Holleman

Many of us live half alive. We compare, compete, self-analyze, and self-promote in our endless, busy pursuit of perfection. Seated with Christ heralds a new kind of living. If it's true what Scripture says, the we are treasured by God and given a place at his table, then all we need to do is to take our seats. Heather Holleman shows us how. Take your seat and live–simply, freely, fully–because of Jesus, for Jesus, and in the love of Jesus. Quit trying: be free.
5. Top Christian Novel of the Year
Soooo…there might be another tie for my favorite Christian novel of 2019. You won't find any church potlucks in these two, but what you will find is a closer look at relationships through storytelling.

Becoming Mrs. Lewis by Patti Callahan, a historical fiction piece about the wife of C.S. Lewis, mesmerized me. It contains some tough subject-matter and a rough word or two, but this author kept me reading like a parched soul sucks down a tall glass of cold water on a humid, sun-scorched, hundred-degree day.
Call Charles Martin a prolific writer and an award-winner. For good reason, goodness! He submerges deep into relationships and social topics–all while weaving the beautiful thread of Christ's love and redemption within stories. It's amazing, really. Deep with description, reading past the first chapter sometimes requires extra gumption, but carry on. You'll be glad you did!
Long Way Gone is my all-time favorite (so far) novel of Charles Martin's. And it makes our list for the top 10 of the year.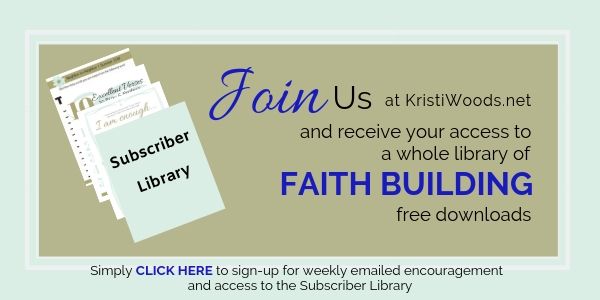 Other New Year Posts You Might Enjoy
6. Top Christian Musician/Group
It's Lauren Daigle and for King and Country for the tie. (I just couldn't choose. Really.) Both albums were published in 2018, but gained popularity in 2019.
Tony and I swayed, clapped, and jumped around at a for King and Country concert last year, and the creativity BLEW ME AWAY! Well worth the time.
We missed Lauren Daigle's concert this year due to Caleb's football game, but her music…pure worship. How about you? Who's your top Christian musician?
7. Favorite Bible of 2019
Two Bible reviews hit the blog this year. Which one was my favorite Bible? I'm choosing the Fresh Start Bible. It included extras that most other Bibles don't have, and was exceptionally functional for both new and seasoned Christians.
8. Top 10 of the Year: Pin
Being a visual girl, I love Pinterest. So do other folks. And the top pin (one that folks clicked through to the blog) at KristiWoods.net this year is this one for 5 Ways to Grow Your Faith Today.
9. Top Message for the Year
When God delivers a message straight to your heart…goodness! 2019's was strong. It came on the heels of the message "believe" which resulted in these two Bible studies. 2019's message centered on perseverance. When God births a desire in us, when we run the race so beautifully, but then we grow weary due to opposition…then what?
A friend named Robin (check out her fiction works) encouraged me with Nehemiah 6:9. She felt impressed by God to share it. I soaked up every bit.
"Strengthen these hands, Lord." Joining me in praying Neh. 6:9 this new year. Listen to the message at #9 in the link, too. 🙂
Click To Tweet
Will you ask that of Him today, too, that He'll strengthen your hands for the ministry journey ahead–however that might look? Scroll to the video at the bottom of this page to soak up the encouragement I shared with others. The Holy Spirit felt incredibly strong in and through me this night. And it all started with Robin sharing Neh. 6:9 at the breakfast table at a fiction writer's retreat. Praise God! Enjoy the message, a definite top 10 for the year.
10. Favorite Scripture of the Year and Beyond
"I am the vine. You are the branches. He who remains in me and I in him bears much fruit, for apart from me you can do nothing." (John 15:5 WEB)
I hope you've enjoyed this list of a Christian's Top 10 of the year. Subscribers, don't forget to stop by the Subscriber Library to gather your free faith-building downloads. Use these tools generously in your faith journey. Run the race well this year! (Not a subscriber, join us here.)
Happy New Year, friend!