How Do I Get to Know Jesus? + Grab Your (FREE) Purpose & Power Bible Reading Plan
How do I get to know Jesus — have you ever asked the question? I have–still do. It's a reasonable and wise question. So kuddos to you for asking it. And since we're approaching Easter, what better time to dive into the goodness of the Lord and our faith?
Read on to get to know Jesus (or know Him more). The free Bible reading plan listed below will help, too.
Having Jesus in Your Life
Maybe fear's mounting…
Or, you're searching for stability among the storm…
Our times are odd right now, that's certain. But…
In Jesus, there's hope.
Afraid? Anxious? Searching for stability in the storm? Look for Jesus, He's hope.
Click To Tweet
Knowing Jesus equates to hope all.day.long. He became a sacrifice for our sins. None other is needed. His grace is sufficient. He overcame sin and death so that we might hold secure the promise of living eternally in heaven with Him.
Trust me, you want to know Jesus.
(If you'd like to better understand heaven, read these verses.)
Do You Really Know Jesus?
Do you really know this man called Jesus? As I emerged into a young adult, I thought I did. After all, I parked in those pews often enough. I grew up with two Bibles sitting on one of our end tables. I even played piano for a trio that traveled to various local churches and played hymns and other religious songs.
But I didn't know Jesus.
I knew "about" Him but didn't truly know Him. That's not the case now. (Read more of my story here.)
If you're like me and thought you knew Him, but something now has you questioning that rationale, allow me to introduce you to Jesus.
A simple, "Jesus, I want to know you," gets His ear. He's listening.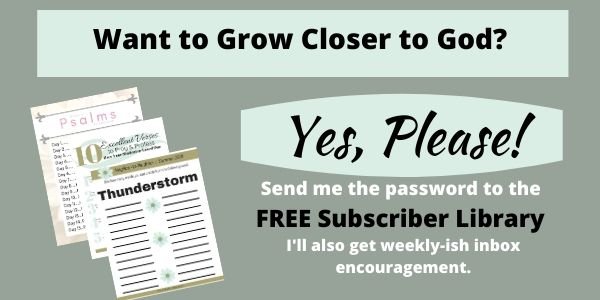 Who is Jesus?
The Savior of the world is a change-agent. He'll take the most and least messed-up among us and wash us anew. He turns life right-side up. And, He's the Son of God, King of kings, Messiah, Prince of Peace, and so much more. (Read IS 9:6.)
I can't imagine a life without Jesus, and I reckon the folks in the following Bible verses would hate to image that, too. Take a few minutes and read these scriptures. Note how lives were changed by Jesus. Consider how He might change yours as well.
(I've journaled and dated my reaction and thoughts to verses like these. It helps to review those notes from time to time–in case it helps you, too.)
Matthew 7:24-29
Matthew 8:5-13
Matthew 9:1-8
Matthew 9:27-33
Matthew 11:25-30
Matthew 14:13-21
How to Know Jesus More
We're nearing Easter–a time to celebrate our Messiah's death, resurrection, and ascension into heaven. What a gift! And what a great time to know (more) the resurrected King of kings.
I've created three tools, curated from my own time in the Word, that challenged and drew me closer to Jesus. These might help you, too. You can use these any time during the year. (Two are free, one is inexpensive and instantly downloadable.)
Purpose and Power: a 15-Day Reading Plan in Matthew
Read about how Jesus' life can change yours by parking your focus and contemplation in the book of Matthew. The richness of this chapter dances to life when we soak in God's good words. Grab your free copy of Purpose & Power.
Find it free now in the Subscriber Library.
Not a Subscriber? Sign up here.
Created to Believe: A Bible Word Study
Has your belief been shaken? If so, may I encourage you to soak in God's Word? This study helps us do just that. It challenges our belief, prods us deeper, and turns our eyes to our God and the might He displays.
BONUS: Purchasers of this study are invited to a private Facebook Bible study group. To be added to the group, email me a copy of your receipt of Created to Believe along with your fb email addy–the one you use to log on with. Join us on Tuesday, April 21, 2020 @7PM, central, for a FB one-night study group jam session where we'll expand on one verse from the study. Find more info. in the group.
Be Intentional by Studying the Life of Jesus
This podcast episode comes from the Intentionally Living with Kristi Woods podcast series at LifeAudio.
Knowing Jesus Bible Verses
Many Bible verses help us know Jesus more. Here are few to start:
"But he was wounded for our transgressions, he was bruised for our iniquities; the chastisement of our peace was on him; and with his stripes we are healed" (IS 53:5 WEB).

"There is salvation in none other, for neither is there any other name under heaven, that is given among men, in which we must be saved!" (Acts 4:12 WEB).

"By this was God's love revealed in us, that God has sent his only born Son into the world that we might live through him" (1 John 4:9 WEB).
Salvation Prayer
If you're not certain, Jesus is your Savior, why not solidify this? Now's the time. Jesus loves you and extends His grace (unmerited favor) to you.
There's nothing you can do to earn salvation. Simply know your need for Him, offer yourself, and trust Him. Below awaits a prayer for you. This, my friend is the first step to how do I get to know Jesus.
Jesus,
I need You. Thank You for dying on the cross as the ultimate sacrifice for man's sins. Thank you for dying and rising again for me. You are Lord. I want you to be my personal Lord. Wash me clean. Forgive my sins. I am Yours. Thank You, Jesus. Thank You. Amen.