When Love Runs Deep (& People Hurt)
Love runs deep–but we don't always notice it. And sometimes Christians hurt.
See the smiles in the above picture? They don't tell the whole story.
We mamas in the picture became fast friends, as military wives often do, a decade-ish ago. Our homeschooled kids attended field trips & classes together. They played at the beach and at each other's houses, too.
I can still picture one of the boys standing in my kitchen after hours alongside my daughter and her Littlest Pet Shop toys. (He stayed with her when all the other kids headed to the playground.) Such kindness!
Let's just call life something that resembled Mayberry, okay?
But several moves and years later, the story took a sharp twist.
Love & The Searing Pain of Suicide
On Thanksgiving of 2020, that sweet boy, 18-year-old Thomas Van Avery, died by suicide.
His death pierced us all, the pain plunging far deeper than we ever thought possible.
We women of faith and our families hurt something fierce. I can't imagine the searing pain Thomas's mama, Kellie, and his family are experiencing.
We etched this girls' weekend on our friend's virtual calendar–a rally, reunion, and boardwalk of ministry to help her through this painful time. A key to help us all, if we're honest.
We converged from the east coast, west coast, and places in between. We talked, cried, hugged, played, laughed, prayed—and held the hope of grasping joy's sliver.
No doubt God's presence surrounded us. He's a good and loving Father. He's the true Comforter.
And comfort He did.
(If you're a subscriber, you might recall my communication several months ago about a profound sadness. This is part of that story.)
God's Comfort
Our Father somehow used whitewater rafting on the Pigeon River (Thanks, Smoky Mountain Outdoors!), a hike that charged uphill—the WHOLE way!—from 2,700' to waterfalls at 4,200', a delicious dinner and show at Dolly Parton's Stampede, and a magnificent unit with amenities at RiverStone Resort & Spa in Pigeon Forge, Tennessee. Oh, and a stellar view of Dollywood's fireworks each night from our balcony.
Through those activities and the conversations they fostered, we found that sliver of joy. We dared to smile, even if it wasn't a wide, ear-brimming grin.
Love Runs Deep
But here's the crux of the story.
Love for Thomas ran deep. From Jesus. Family, friends, and others too.
Did he know?
Did he possibly comprehend the galaxy-sized hole his absence would bring to the lives of many?
His mama's asking these questions. Other people, too.
Do the hurting know—those who are struggling right now?
Do we realize in our core how wide and high and deep is that love—from Christ?
How about the human level of love swirling within others for us? (Our weekend evidenced the pain left by suicide's wake.)
But here's something we often don't discuss.
Even Christians consider suicide.
We're not immune to the thief who hovers with his sickening plot to kill, steal, and destroy. Nor are our teens. (Teen suicides are on a sharp rise at the time of this writing. Find out more in this CBN story or this NPR piece.)
Make no mistake, the battle against the suicidal spirit is a spiritual battle waged against the Almighty and His creation. Grab that God-given gear to fight this battle.
2 Tools to Fight Heaviness
The Word
It's a mighty sword that slices through the lies.

A Foundation of Love
It offers a firm foundation on which to stand, and it casts out all fear—which often causes us to grab the Adam and Eve solution of self-reliance.
People can walk alongside us in the journey, too, helping us wield those weapons to fight off the heaviness. Find those suggestions near the end of this post.
Love—God's–runs far deeper than a simple pinprick.
It washes into the narrowest gullies of our lives and causes a life flow where previously only death prevailed.
People matter. You. Me. And the folks we encounter every day. And kindness proves its worth when we spread it.
Love even more so.
Sometimes, however, our thoughts ring contrary to love.
This is too heavy.
There's no other way out.
I can't do this anymore.
No one cares.
All truth-finagles by the enemy.
If that voice of darkness bellows in your ear, mute it with the reminder that you are loved.
Even if it doesn't feel like it.
And folks want you to stick around. Mamas like Kellie. Family friends like me. A God like the Almighty.
Even if you're not sure.
Where there seems to be no way, rest assured that beyond human imagination, our God makes a way.
Don't Miss These Hope & Faith Posts
Love Wins
We serve not a plastic, flimsy God, but the Almighty whose arm outstretches even the most Goliath-like.
And He loves you.
And that love wins.
Regardless of the voices.
Stand firm or stand trembling.
But stand, my friend. He's got you.
In memory of Thomas and on the firm foundation of Jesus' never-ending, all-powerful love, stand.
If you're battling depression or suicidal thoughts, you're worth fighting for. Jesus assures and the Holy Spirit counsels.
Guidance from caring folks helps in the journey as well. Reach out to a trusted spiritual leader, a mental health professional, a doctor (some low vitamin or hormone levels can play a part), and/or a nutritionist. Whatever you do, friend, don't go it alone. The enemy would love nothing more.
1.800.273.8255 National Suicide Prevention Hotline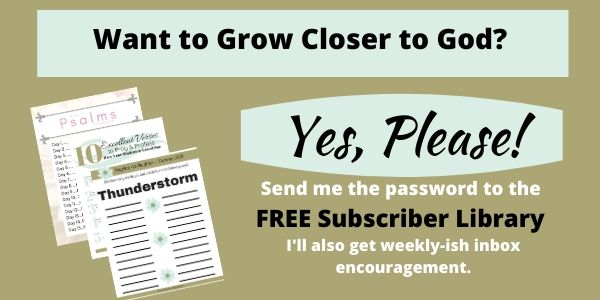 Scripture quotations marked (NIV) are taken from the Holy Bible, New International Version®, NIV®. Copyright © 1973, 1978, 1984, 2011 by Biblica, Inc.™ Used by permission of Zondervan. All rights reserved worldwide. www.zondervan.comThe "NIV" and "New International Version" are trademarks registered in the United States Patent and Trademark Office by Biblica, Inc.™